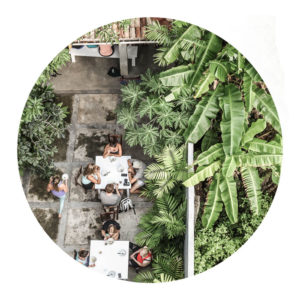 About the venue
Ceylon Sliders is a hotel, café and shop located on the beachfront in Weligama. There's the ocean view suites with large balconies, there's the rooftop with panoramic views and daily yoga classes, there's the intimate shop space with ocean views and modest selection of fine, local and imported goods, there's the colonial house in the back with a library and three rooms with greater privacy. Perched in between the two is the courtyard; the heart of the house, with a unique café focusing on simple, organic and fresh cooking, and last but not least, great coffees.
About the people
More than a location, Ceylon Sliders brings together like minded people that are sharing the joy of riding the waves around the island. We are a community of ocean sliders, travellers and creatives celebrating surf culture in Sri Lanka. The palm-speckled bay of Weligama, peeling surf and laid-back ambience provides the perfect backdrop for inspiration to flow and creativity to grow. Ceylon Sliders is a carefully designed space created by the individuals that live here and the ones that travel by. Together we share a simple life by the sea, surfing waves, creating things or enjoying good meals at the café.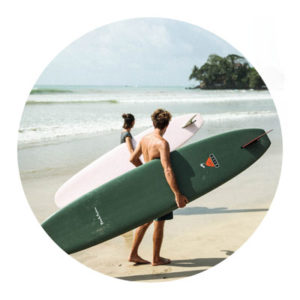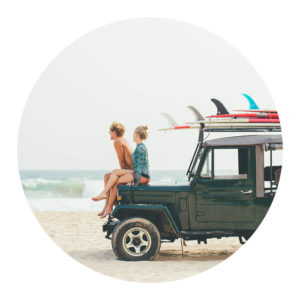 About the founders
Ceylon Sliders is founded by Swedish couple Petter & Linn who followed their dream and set out on a journey of their lifetime just after finishing college. During their travels they founded sunshinestories.com – a travel blog with which they used to keep in contact with friends, family and the people they met on the road. They found surfing and living in the tropics to be their dream life, exploring and adventuring about during their days. They met some inspiring people on their path and after five years of travelling and attending their university studies in Sweden they decided to move to Sri Lanka to open up Sunshinestories Surf & Yoga Retreat on November 1st 2015. A year later, it's become the ideal setup for surfers and yogis to develop their skills in an intimate and modest retreat in the jungle, with close proximity to some of the best waves on the island. As a natural development of the retreat, Ceylon Sliders opened their doors in December 2016 in Weligama. With the original retreat being a private experience solely for booked guests, the idea with Ceylon Sliders is a venue that is more open to the public but with the same attention to detail and service. On a small property by the sea lies Ceylon Sliders, a small hotel, shop and café that sets a perfect base for the traveller to explore southern Sri Lanka.