Scoring uncrowded waves on a surf trip is every surfers dream. Those secret spots which only the locals and a handful of insiders know about are a rarity. Although Sri Lanka can't promise perfect barrels every day and consistent 10 footers, it sure makes up in less crowded line ups, warm tropical waters and the odd solo surf opportunity. We've rounded up the best surf breaks on Sri Lanka's south coast to get you feeling inspired.
Weligama Beach Break
Situated directly in front of Ceylon Sliders, Weligama is the ideal surf spot for beginners who are just starting out. It's a long stretch that hugs the bay and gradually gets bigger as you head down the beach in the direction of Mirissa. As there are so many leaners the line up it can get packed, but time your visit right in the season and there's uninterrupted slide sessions to be had. As Weligama beach break sits in a bay, it makes a good option when the rest of the south coast is blown out.
Lazy Lefts and Lazy Rights
Lazy by name, lazy by nature. This pair of mellow breaks are as mellow as they sound. Although not technically one break, they sit opposite each other in the sleepy bay of Midigama making them one of the best surf spots on the south coast of Sri Lanka. Lazy Lefts is long board friendly, although the take off can be a little steep it soon smoothes out as you go down the line. Lazy Rights is a similar step up, but can break in various places with different sections rolling through. As both breaks are over deep reef and accessible from a channel, they are beginner to intermediate friendly for those looking to try their first reef break.
Gurubebila Coconut Point
Just a short drive from Ceylon Sliders sits the picturesque bay of Gurubebila, also known as Coconuts. This A-frame reef break offers peeling lefts and rights over a shallow reef bed. For the more intermediate to advanced surfers, you can access the peak from either jumping off of the reef or paddling out from the beach. It generally works on a bigger swell, but it also offers the odd wave on smaller days. The secluded beach and natural pool that forms in front of the break is also an idyllic spot to spend the day when the surf is small. 
Kabalana
Situated just down the road from Ahangama, Kabalana is a surf spot that can handle a bit of swell. A more popular choice for the short boarder, it's a chunky A-frame peak that can offer long barrels on either side. It forms off of 'The Rock' out the back which appears to break up the swell forming double ups and wedges. Kabalana is famed as one of the best A-frames that Sri Lanka has to offer so can get busy during peak season, but quietens off after.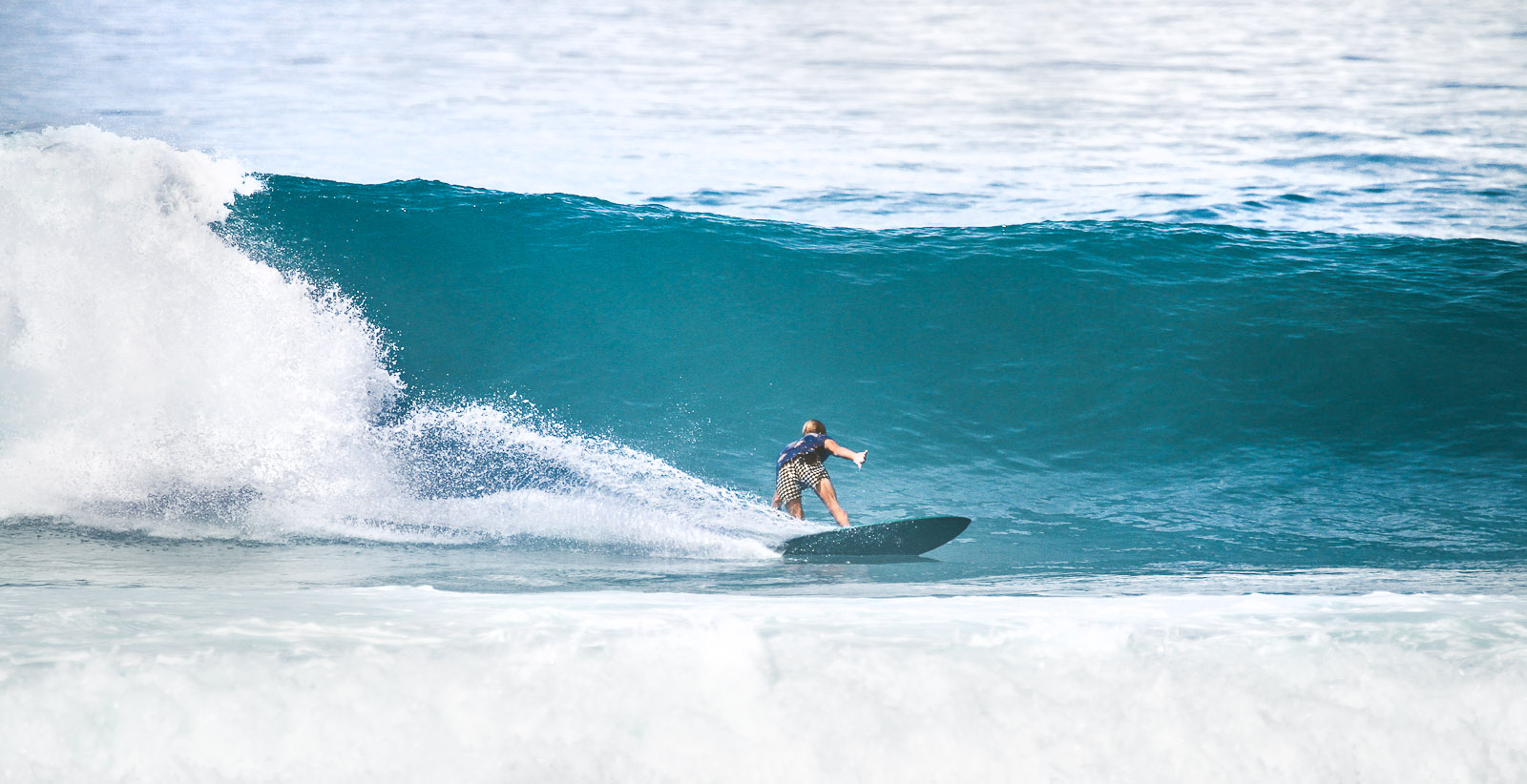 Rams

A favourite among the more advanced, this barrelling right in Midigama is a great spot even when it's small. This powerful A-frame wave breaks over sharp shallow coral, so it's not for the faint hearted. Rams is a fast take off in both directions and a fairly short but sweet ride down the line. Midigama is a great spot throughout all seasons and works pretty consistently, offering mostly glassy conditions throughout the day.
Hikkaduwa Reef
The bustling fishing town of Hikkaduwa is a great place to visit for the day and offers a variety of waves for all abilities. The beach break is ideal for beginners but can get very crowded during the high season. Those in search of heavier waves will find it at Hikkaduwa. The A-frame reef can handle a larger swell and is a particular favourite among locals. It offers long rides from the left and is also known to barrel on the right. It breaks over a deep reef so you don't have to worry about scuffing your feet, but can get packed at times. 
Mirissa Beach Break
A twenty minute drive from Ceylon Sliders is the touristy town of Mirissa, a popular picturesque bay fringed with palm trees. There's a relaxed right hander that forms from the reef out the back and a gentle left hander near the harbour making it the ideal spot for long boarders. It works on most swell and can handle up to 6ft, but the tides can create a shallow reef bed at times. Mirissa is a mellow wave which welcomes all abilities.
For those who are interested in surf guiding, please ask us at the front desk for more information. The Ceylon Sliders team will be more than happy to help.