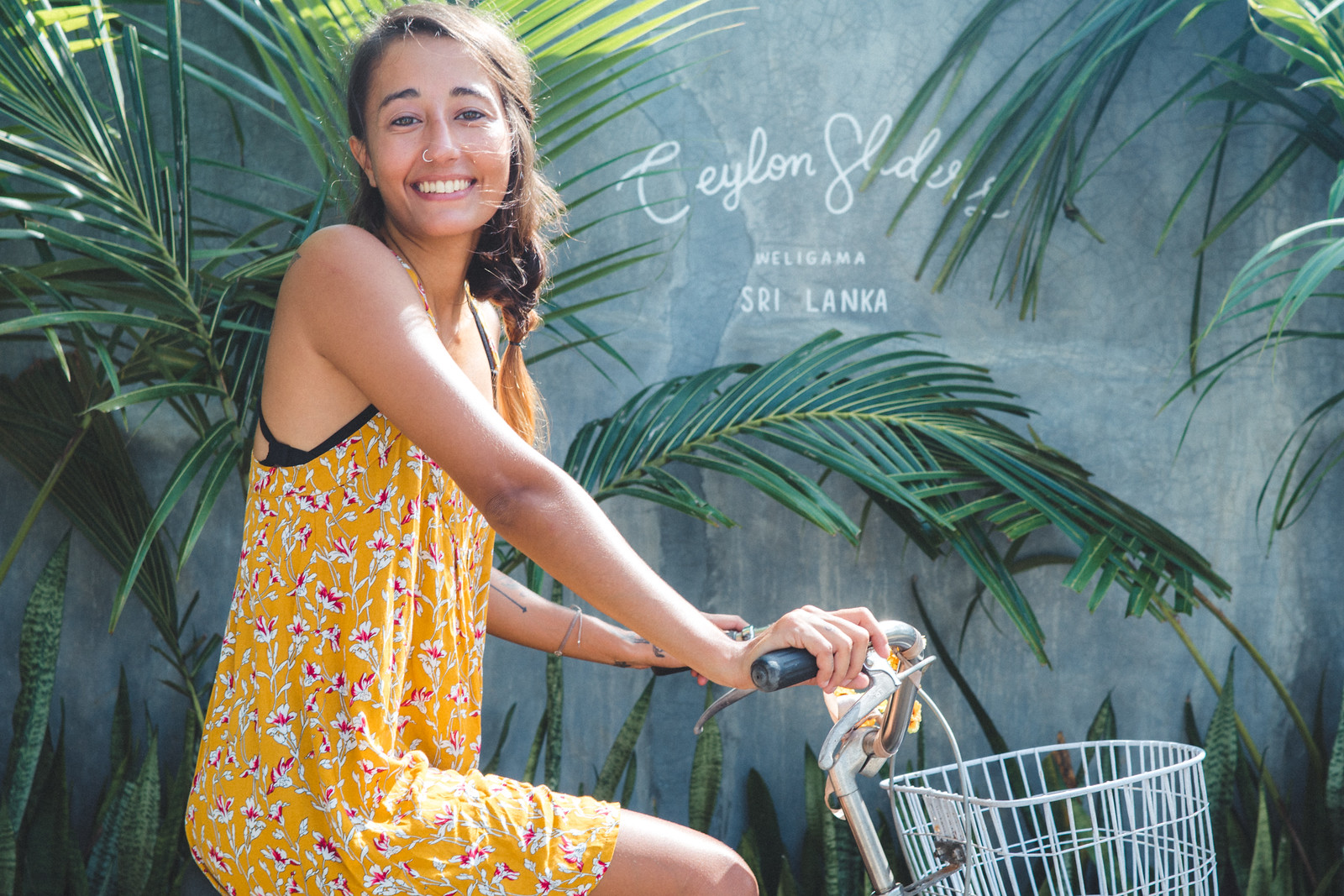 Introducing Island girl Sam on the team. Come say hello to little miss Sunshine at our front house desk, she will happily show you around our shop and help you decide on those super tough decisions a Seea suit or an Oy bikini ?! With her natural beachware flare, laidback vibes and infectious smile she will welcome you to Ceylon Sliders.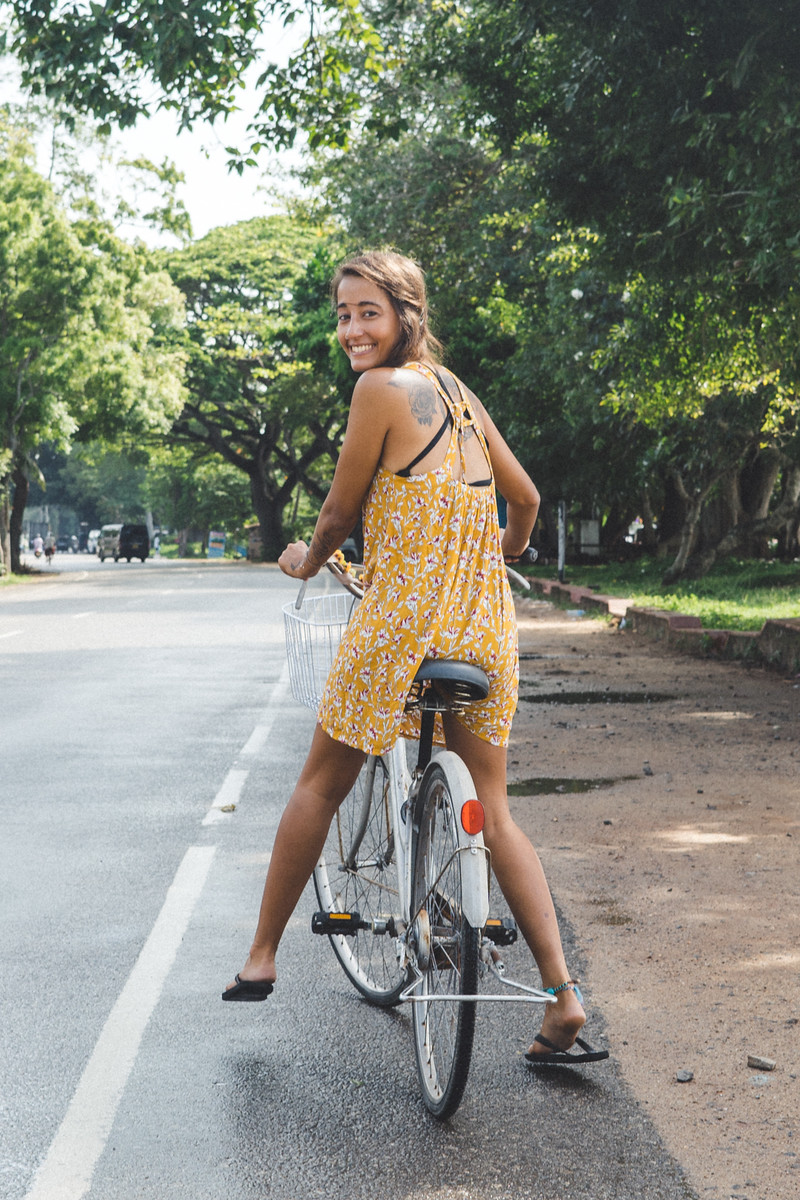 Half Sri Lankan and half Swedish she brings her understated beach style wherever she goes, in the shop or on the water she will always be dressed for those balmy beach days . We wanted to find out more about her day to day life, living on this tropical island, delve into her passion for coloured prints, talk tattoos and find out more on her exciting new passion project. Intrigued? we hope so.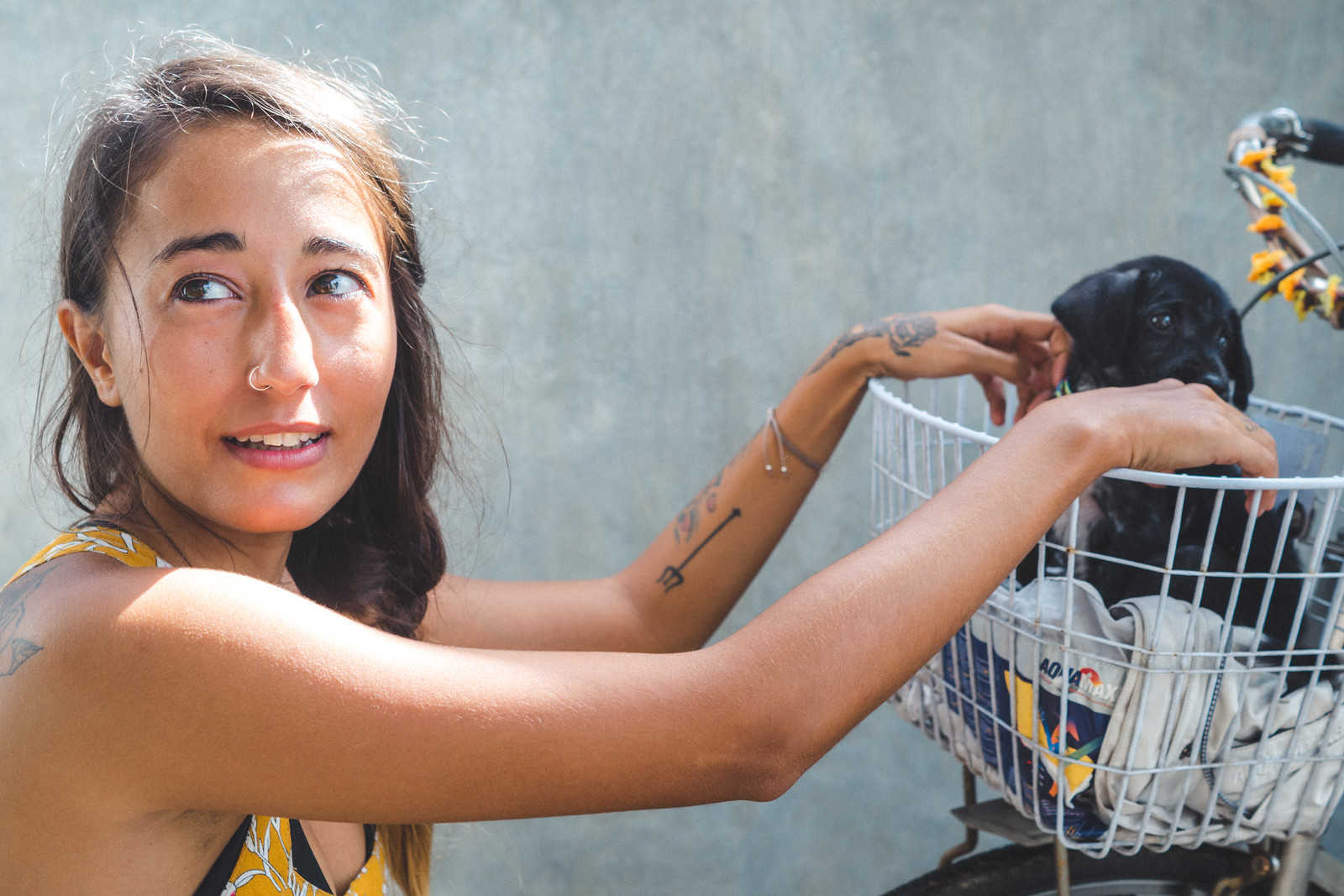 Sam if you could describe yourself in 3 words, what would they be and why?
ahhhh that's a hard one, let me think … ok, so I think, I am quite a giving person, where I actually find it quite hard to say no. I like to give people my time and full attention when I am with them. It feels really good and costs nothing.
I like to think of myself as a free thinker. I grew up in Kuwait, than moved to Sri Lanka when I was 17. Having both Swedish and Sri Lankan parents and coming from an international background allowed me to embrace so many different cultures early on in my childhood. Being different is interesting.
I am a very open and honest person, what you see is what you get with me. Being friendly and approachable goes hand in hand with my role at Ceylon Sliders shop.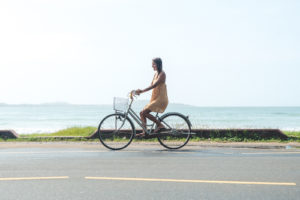 We always admire your effortless beach style, talk us through your wardrobe?
Haha, yes I love clothes, my weakness! I have so many clothes, it's insane but actually when I come to think of it I probably wear the same 10 pieces. What attracts me to clothing, is that I have a lot of tattoos so I like to match my clothing with my tattoos. I naturally gravitate to clothing that reminds me of the beach / jungle or Sri Lanka. I also have a sweet spot for over sized t-shirts.
My favourite Summer outfit at the moment is my yellow dress which I bought recently in Thailand. It's so easy and simple to throw on in the mornings for work or for the beach. It just fits my lifestyle so well, paired with my black flip flops which I've had for 3 years. Work, beach or walking Charlie (my new puppy) I always do it in flip flops!
What inspires or influences your style?
My job at Ceylon Sliders. Luckily, I get to meet and talk to so many new people from all over the world in the hotel. Seeing how other people dress always influences me even if I don't realise it at the time.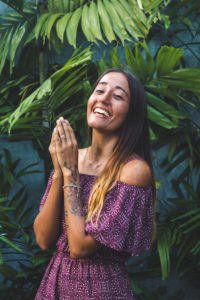 We can't stop staring at your tattoos, what can you tell us about them? Which one was your first? 
My first tattoo was of a half moon and OM chakra. I started with something small as I was scared of tattoos, but once you get your first one, you experience how it feels and your discover your pain tolerance, leading you on to your next one  and the next … ( It gets addictive).
Usually people have meanings behind their tattoos, mine are mostly all visual apart from one. My only coloured tattoo is of  Sakura flowers blowing in the wind. The flowers represent my brother Yaseen, my sister Diana and myself being blown in the wind. My mum passed away last September, she use to call us her flowers. She is our wind, she is always around us no matter where we are.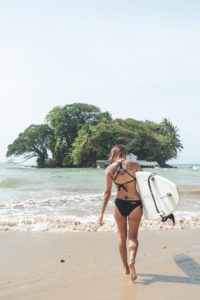 Working in Ceylon Sliders shop, you see all the new brands coming into store, what are your favourite items?
Oy bikinis without even thinking, is by far one of the best surf swimwear brands we stock. The way the bikini looks and feels on, it's just so flattering. It is super comfortable to wear and you feel completely secure when out in the water which is most important. It stays on !!
I'm usually not a fan of wearing jewellery as i'm always in the water,  but I recently bought a bracelet from Pinch Of Salt which I wear every day including when surfing. Theres even a bit of surf wax in the flower but I love it. Works with my beachy lifestyle.
Quality People, even though it's a menswear brand the t-shirts are just so comfortable and everyone needs to own a Free Hugs    T-shirt! They are awesome.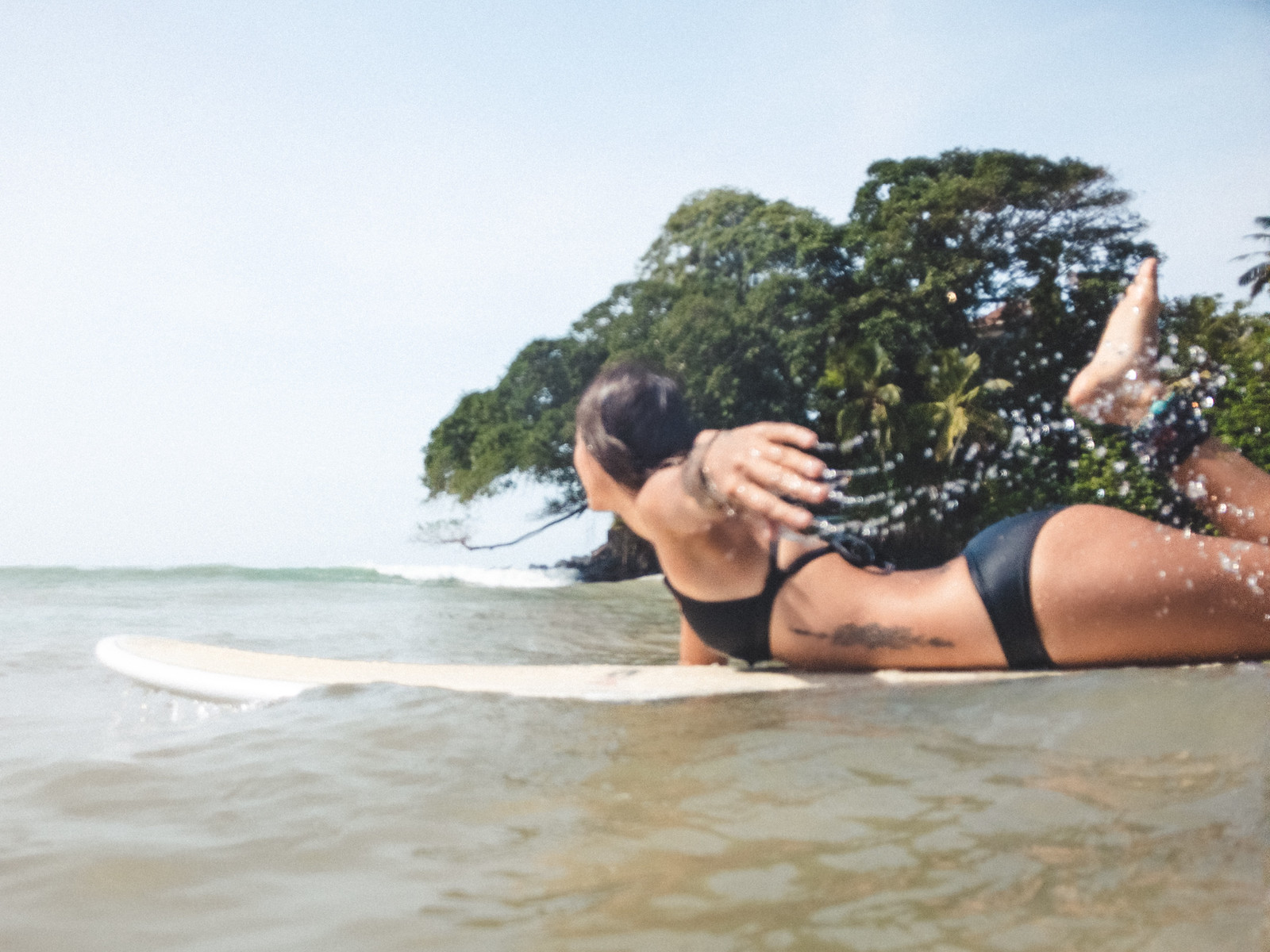 We all love a good passion project and we have heard you have started with photography, shooting surfers in the water. Tell us more!
Truly it wasn't something I knew I wanted to do. It just happened! I was handed over a water housing to shoot some pictures for fun, next thing you know, the water housing belonged to me, and I'm shooting surfers almost every week!
 And isn't it hard for you as a surfer to lay in the line up shooting others surfing, do you feel like you're missing out on good surf?

Yes I do feel like I'm missing out sometimes, but oddly enough, surf photography makes me just as excited as surfing does! And as mentioned before, I am such a giving person, and it makes me happy to give and show other people photographs of them surfing! I know it makes them happy, which makes me happy too.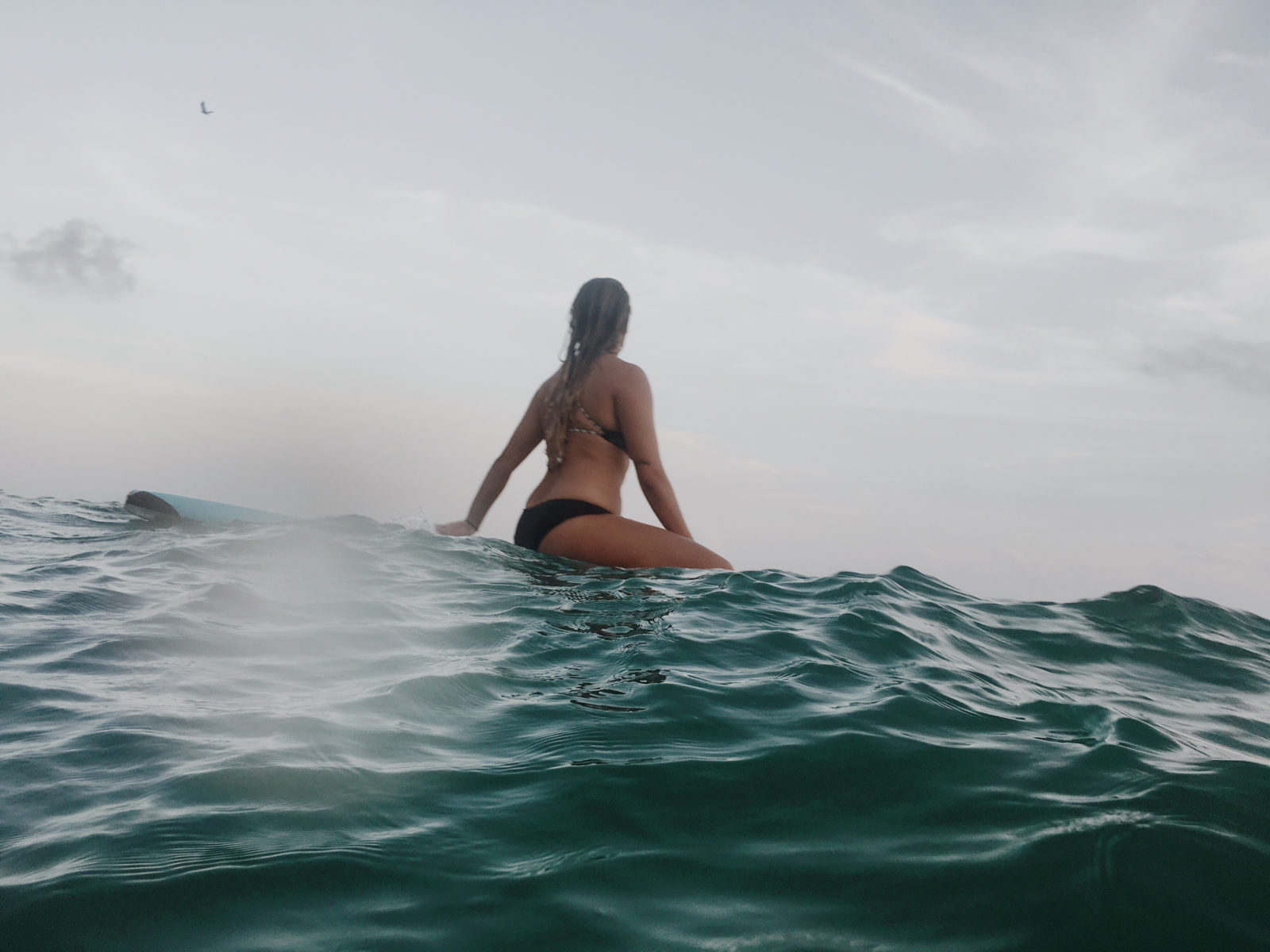 Photo by Sam, check out her instagram here: @samiathulin
Best thing about surfing in Weligama?
Meeting new people in the water. In Weligama, around the Island it's so easy to meet new friendly faces every day. I surf with the locals most days and they are so caring in the water. They are extra nice to girls ! and hey I met my boyfriend in the water so you just never know girls !!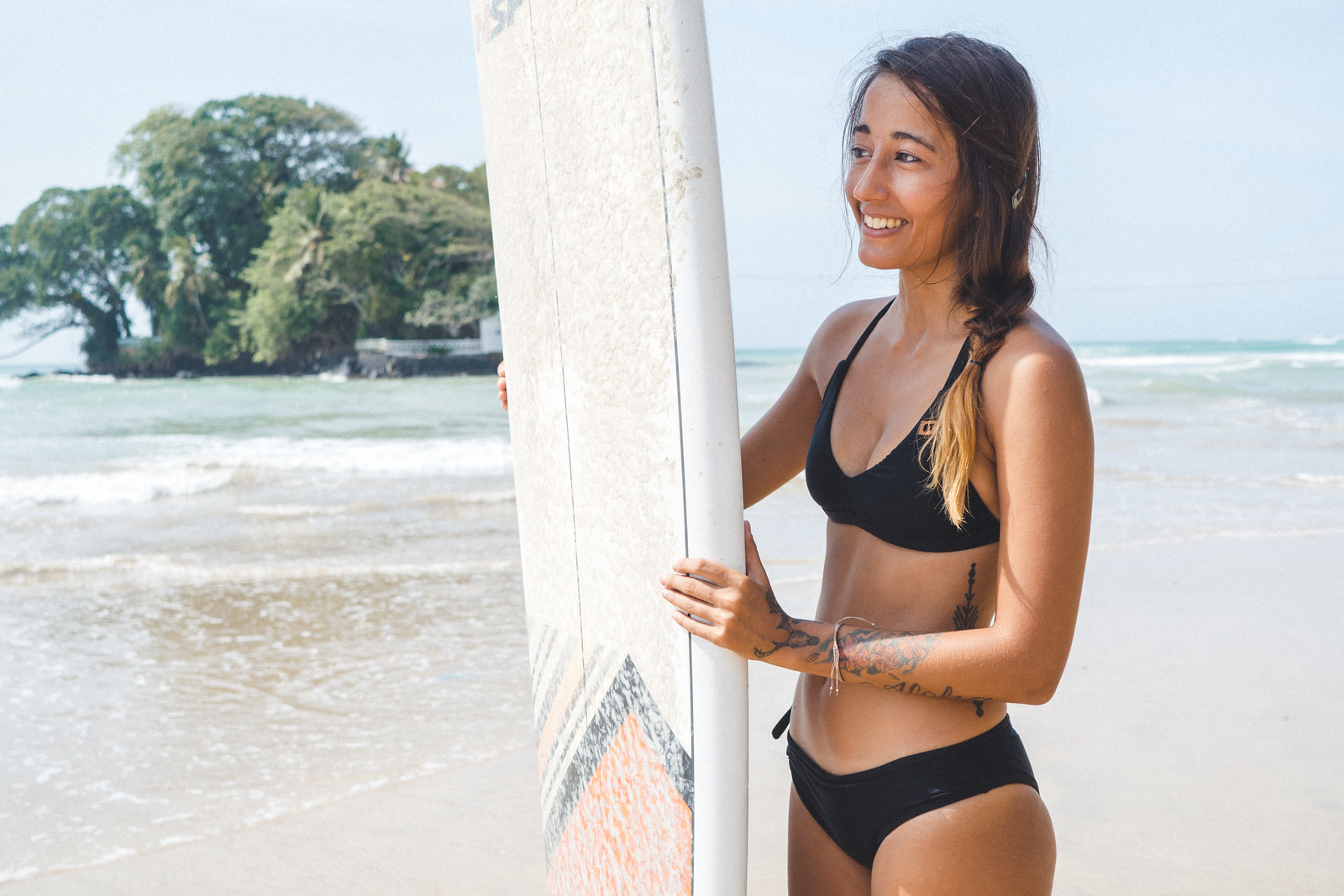 Words you like to live by?
Be a good human.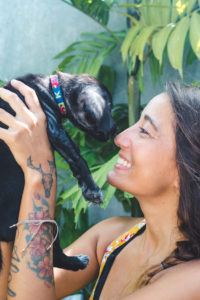 Photography by Brad Golden