We're really proud to have one of Sri Lanka's most stylish surfer as our Ceylon Sliders team rider; Thili Mauranga. We have seen him develop his style as well as his taste for boards over the years. His quiver at the moment is pretty perfect.  We asked him to talk about his three favorites. 
The Concave Keel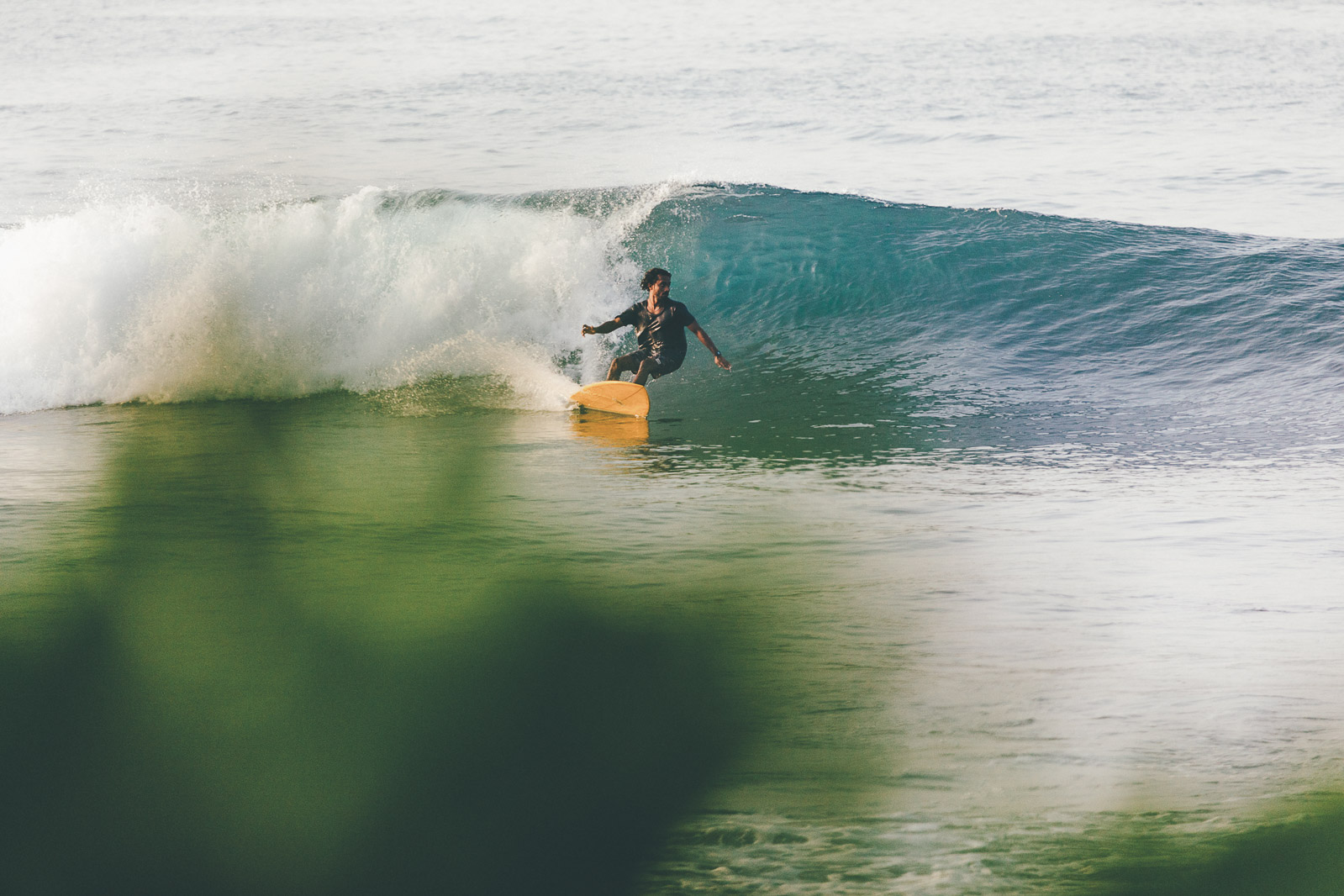 The latest addition to his quiver, a Bing Concave keel 5'2. Thili says it's the best board he's ever had, and for good reason. The board rips. It allows him, or any surfer for that matter, the ability to catch more speed and float a bit easier. The board itself has a concave center, letting the rider take hard take offs to catch serious speed. The board has glass on fins for maximum performance because that's how legendary shaper Matt Calvani made it. 
Thili rides it here in Sri Lanka when it's: Glass conditions, low wind, bigger swell


The Raven
The perfect midlength, a Bing Raven 6'2. The perfect board for the cruisy lanka days, or when you can't decide between a shortboard and a longboard. It's a single fin, giving the rider the ability to turn and cruise with style. Think mellow, with the ability to handle big waves as well. Turning is good on the board, allowing for long, cruisy cutbacks. A nice aspect Thilli has found riding the board in Sri Lanka is the ability to ride the lip of the wave with it – not many other boards are able to do so here. Laybacks are also a possibility, with an easy noseride and hang five. It's responsive to the rider, making it an ideal board for conditions that don't work for a shortboard or longboard.
Thili rides it here in Sri Lanka when it's: Medium swell, or when he's not too sure if it's going to be big or too small.

The Elevator by Chris del Moro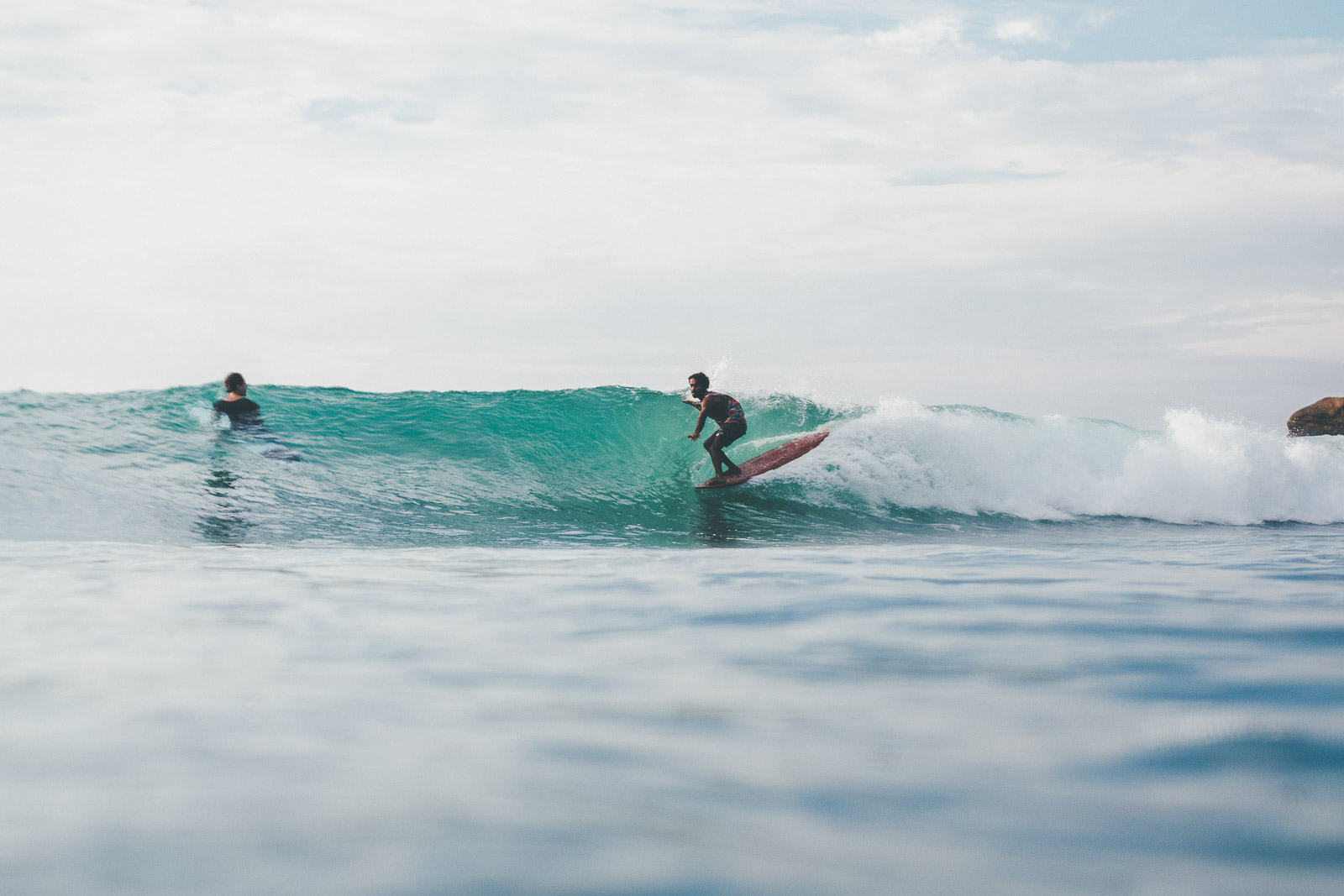 This 9'5 Bing Elevator is Thilis first longboard. It's special to Thili because it's his first longboard ever and also the board he learnt to longboard on. Figuring that was only about 6 months ago it must be a pretty good board.. It could also be that Thili is a talent. Longboarding opened up new dimensions to surfing for Thili and the most important thing; more surf days.  With a longboard, you can enjoy even the really small waves.  The Elevator is a good board to practice your longboarding style, like nose riding and cross steps on those elongated waves.
Thili rides it here in Sri Lanka when it's: Smaller swell and waves that stretch for miles and miles
So, what's the next board for you Thili?
"I'd want to try a finless board. It's such a different world in terms of board types, so it'd be nice to learn a new aspect of surfing"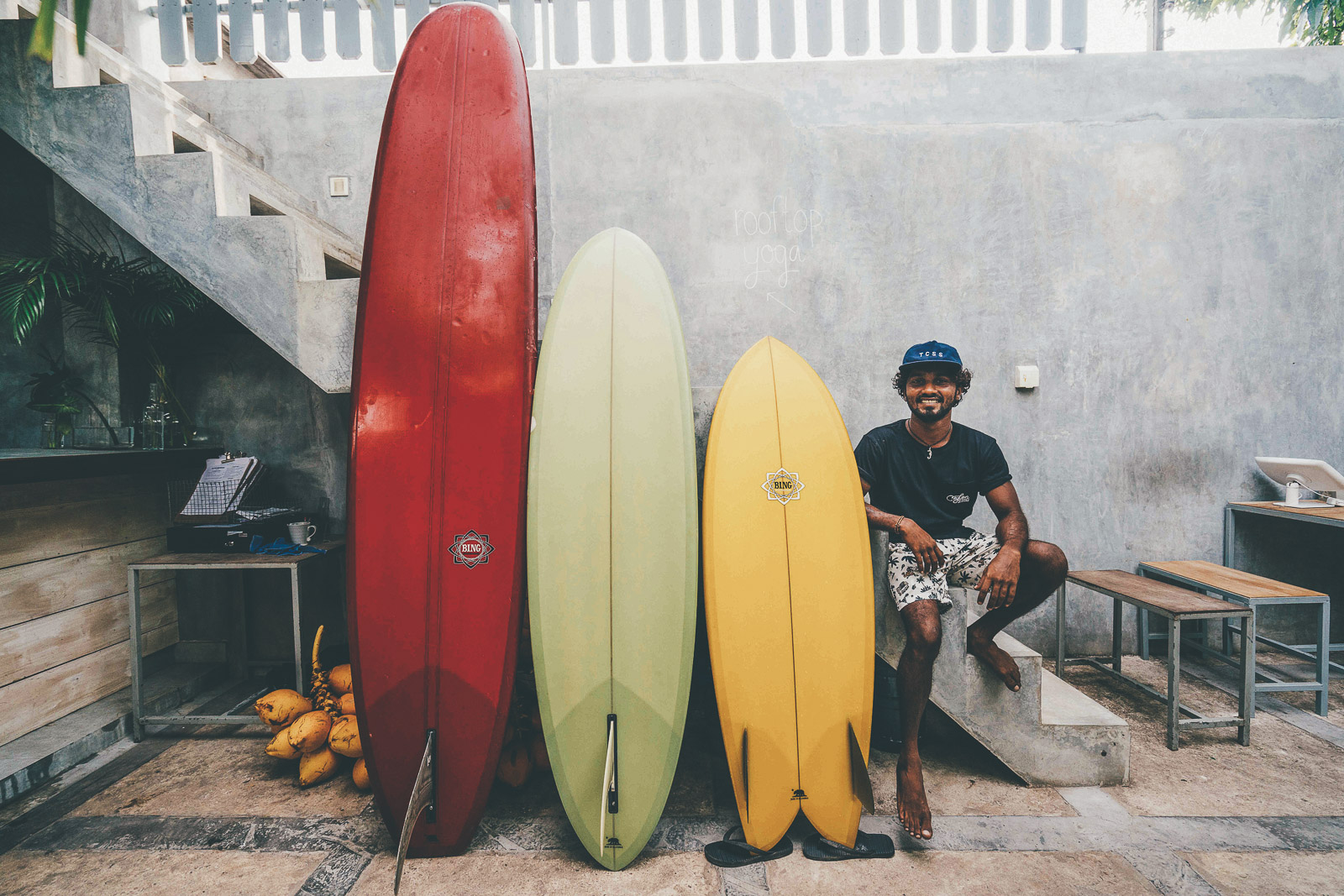 Thili's wearing:
Ceylon Sliders Classic Pocket Tee
Rhythm Boardshoarts
The Critical Slider Society Boardshorts
TCSS hat
all from our shop here in Weligama.
We also have a small selection of surfboards for sale. Come by to check them out, we're open daily until 5:30 pm.
Read more about Thili here and here and here
Photos by Lachlan Dempsey and Marc Llewellyn